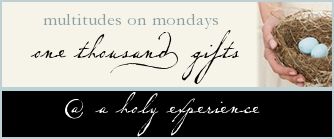 it's been a while since i've done this.
in light of a tough season in our little family,
i feel the need to remember all that i've been blessed with...
110. paint colors
111. children's books.
112. especially mercer meyer's Little Critter
113. and Dr. Suess
114. the sunshine!
115. worshiping
116. time spent with just my daughter yesterday
117. seeds sprouting
118. my husband's arms
119. overtime pay
120. prayer, the ability to come before my Father
121. lemon
122. linen
123. my 4 year old's endless, insatiable desire to learn
124. my 2 year old's silly faces
125. my 9 year old's inner strength
126. my daughter's sweet , helpful, goofy spirit
127. friends. the kind you know are covering you in prayer
(thank you and I love you guys!)
128. spring really being here. and feeling it outside.
129. smelling flowers perfuming the air.
130. buttons
brynna's 7th birthday was march 31 st.
this was her surprise donut for breakfast.
her MRI is scheduled for april 14th,
please keep her in prayer.
and if you don't know what i'm talking about,
here
is the original post.